Development
Easter Eggs
FAQ's
Favorite Add-Ons
Guestbook
Hardware Hacks
Information Sources
Link Partners
NiMH's
PDA News Ticker
Pilot Sightings
Reviews
-HotPrint
-Weatherguide

SEARCH
Software:
-AppList
-DateList
-Ram Hog
-rPremium
Tips & Tricks
Top 10 Reasons
- to buy a Pilot
Wish List
Main Page
In this section, I will write about products and publications that I have had the opportunity to check out first hand !

The Weatherguide (11/1999):

The Weatherguide from Precision Navigation Inc. is a pretty cool little device. Using the Weatherguide module and your Pilot or Palm III, you can get a weather forecast for your area any time you want !
The Weatherguide is a sensor module that forecasts the weather for the next 24 hours, wherever you happen to be. It does this by constantly monitoring the current temperature and barometric pressure. It uses this information to analyze the past 24 hour trend and determine a forecast with surprising accuracy.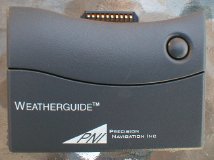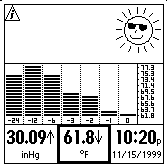 This module attaches to your Pilot or Palm III just like the modem module from 3Com. In fact, it is the same size & shape as the modem module. The Weatherguide requires 2 AAA batteries which are included in the package. Once you install the batteries in the Weather Guide, you must wait 24 hours before you can start forecasting the weather. The module is constantly collecting data, even when it's not attached.
When you attach the module and run the included program, the forecast will be displayed on the top part of the screen. Along the bottom of the screen are the current time, date, the barometric pressure, and the temperature. In the middle of the screen is the 24 trend bar-graph for either the temperature or the pressure, whichever box is selected at the bottom. An arrow pointing up or down next to the temperature and pressure indicates a rising or falling condition. The software .prc for the handheld is about 35k in size.
Animated forecasts are displayed for different weather conditions. The software can display sunny, partly sunny, cloudy, cloudy with showers, rain and heavy rain. If severe weather is in the forecast, a warning message is displayed.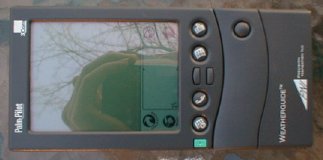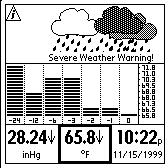 The unit is compatible with all Palm OS organizers except the Palm V. This is unfortunate because my primary unit is a Palm V. But due to the very different design of the Palm V modem module, I can understand why a unit for this model is not yet available. I hope that Precision Navigation will produce one in the future.
The Weatherguide is a fun module. It costs $80 and can be purchased from Precision Navigation's website at www.precisionnavigation.com



If you feel like buying me a drink please feel free to do so using the button below!